CONSECRATION OF MARCEL'S ELEPHANT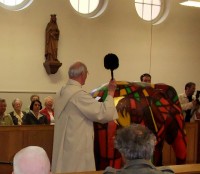 Marcel's 'Elephant-Parade' Elephant, the 'San Francesco d'Assisi-elephant' has been consecrated, in the nuns secret chapel, by the priest of the Nunnery-convent where Marcel's atelier is located.
A special Nunnery delegation from Brazil was also invited for this event.

Marcel's Elephant stands for 'Happiness, Love and Truth'. That's where 'his' Nuns believe in too.
<< Back to overview